Description
Micheal Roundtree
2023-05-24
River Refresh is an awesome product. Not only does it disinfect but it makes odors go away. It is organic and safe to use around children and pets.
Safe and effective. Bottom line? This is the only cleaner we use in our home.
Leslie Shields
2023-05-01
My family loves this product! Before baby it was amazing and safe for pet clean ups and now that a toddler is on the floor I know this product kills germs and is safe for the little guy on the floor. Put it in the laundry the other day as a bleach substitute and whitened my whites too!
As an official "crazy cat lady", and chief cook and litter cleaner to multiple felines (I refuse to talk numbers), I had the opportunity to try River Refresh about 5 years ago. Marc suggested a number of ways to use it and I expanded on the list. Five years later, besides shampoo and body wash, dish/dishwasher detergent and clothes detergent, River Refresh is the only cleaning/disinfecting/deodorizing product that I use in my house. I use it in my Hoover bare floor cleaner for my bare floors (no scent, no rinse, no streaks) and on my counters, tubs and showers. When I found out that it is used in human and veterinary wound treatment, I started using it for that, also. I squirt some in my cats' water, to help keep their teeth clean. I swish with it after brushing my teeth, to keep my dental hygienist happy. In the fall of 2019, while working on a home improvement project, my router slipped and ran across my left index finger. I should have gone to the ER, to get stitches, but decided to make it a River Refresh science experiment. I sprayed the gaping wound thoroughly with RR, put the pieces back where they belonged and bandaged it. I sprayed and re-bandaged twice a day, for a week, then daily for the next two weeks. At the end of 3 weeks, it was healed perfectly and there is no evidence of a scar today. It never got red or inflamed and there was no oozing or anything like that. I have daily pics but Marc says they are too hard-core for the average stomach, to post. Anyway, the new River Refresh "River Rocks" packaging makes it so easy to use and I don't end up with extra plastic bottles laying around...I can just reuse bottles I already have. I simply cannot say enough about how great this stuff is...wait a minute, I just did.
I have been using River Refresh for over two years. I was introduced to the product by a mother of twin teenagers. Both were in athletics and smelled like teenagers, River Refresh eliminated the odors associated with teenagers. That was a bold sales pitch. I had an inside dog at the time, and I am not an inside dog person. River Refresh eliminates dog odors. In fact, it eliminates ALL odors from everything. No creative writing, no string of adjectives, simply put, it eliminates odors and doesn't smell like a flower bomb went off or some other scent leaving the room smelling like Christmas spice AND dog. They say its all-natural, kills viruses, is used in hospitals and by veterinarians ... blah blah blah. I don't care. If you want a clean-smelling room, couch, dog bed, teenager's room, or kitchen... River Refresh is for you, it just works. I now have two inside dogs... there is no pet smell in my house.
Darrell Samuelson
2023-04-13
River Refresh has been a part of my daily routine since the beginning of Covid. I help run a landscape company and we use River Refresh to sanitize and disinfect our trucks and restrooms for our employees...great product, affordable, and no "fake clean" odors!
Robert Workman
2023-04-12
My pair of German Shepherd's got into it, and one of them sustained a wound. My first thought was to take him into the vet for stitches. But I had just begun using River Refresh and knew about its strong, disinfectant capabilities. I treated the wound twice a day with River Refresh and it completely healed without issues. I spray my dogs, water bowls with it every day, and they don't have any dog breath. I gargle with the stuff! This is really great stuff.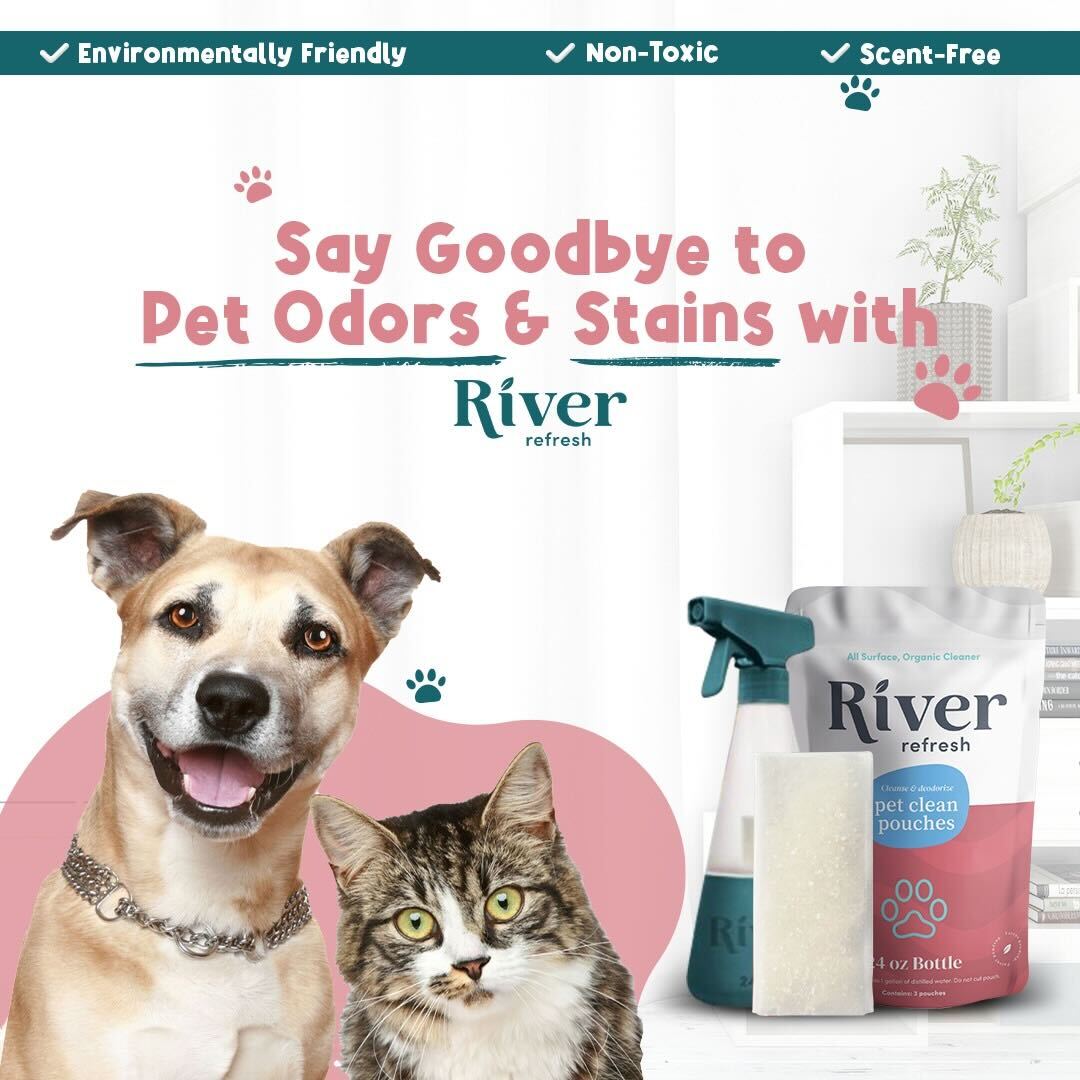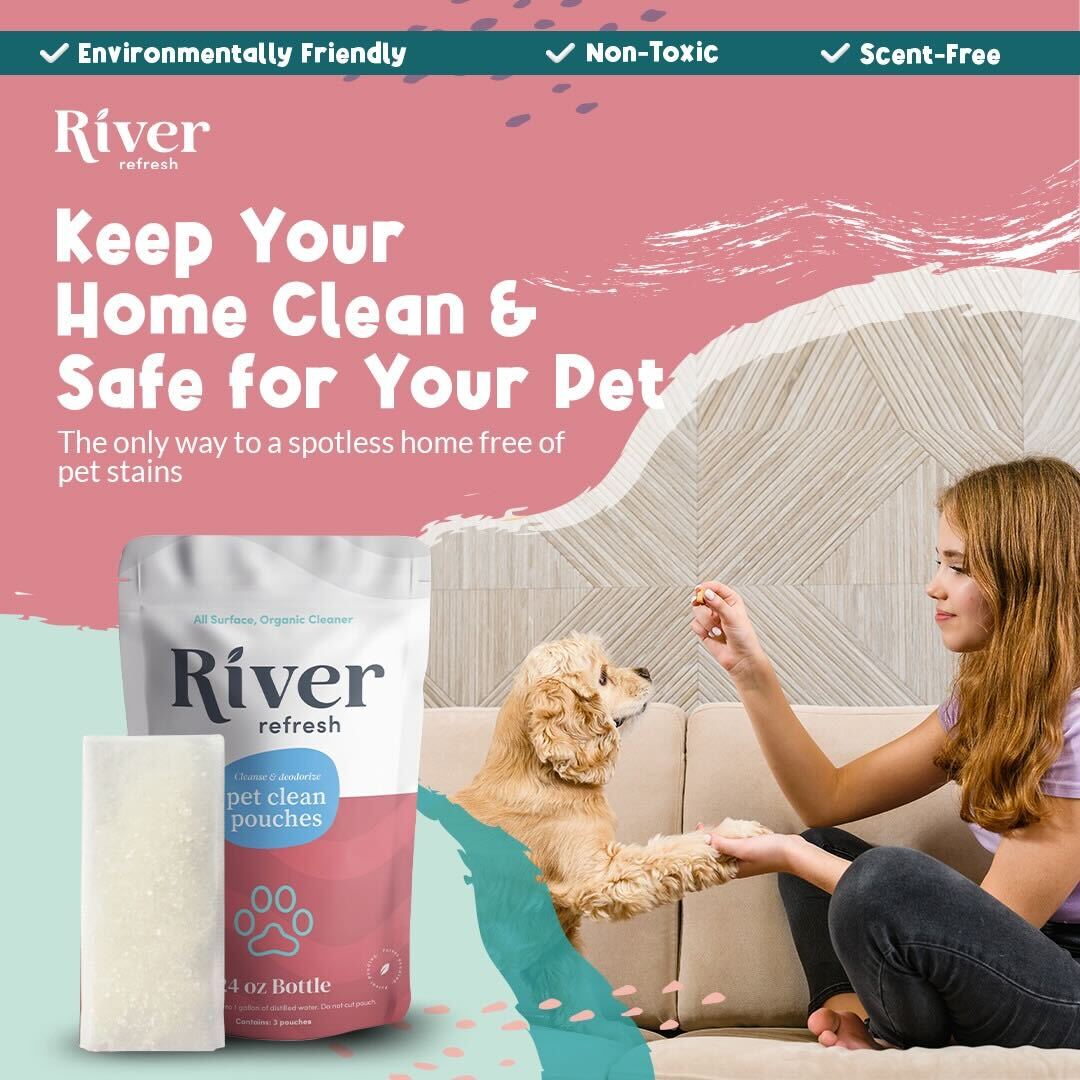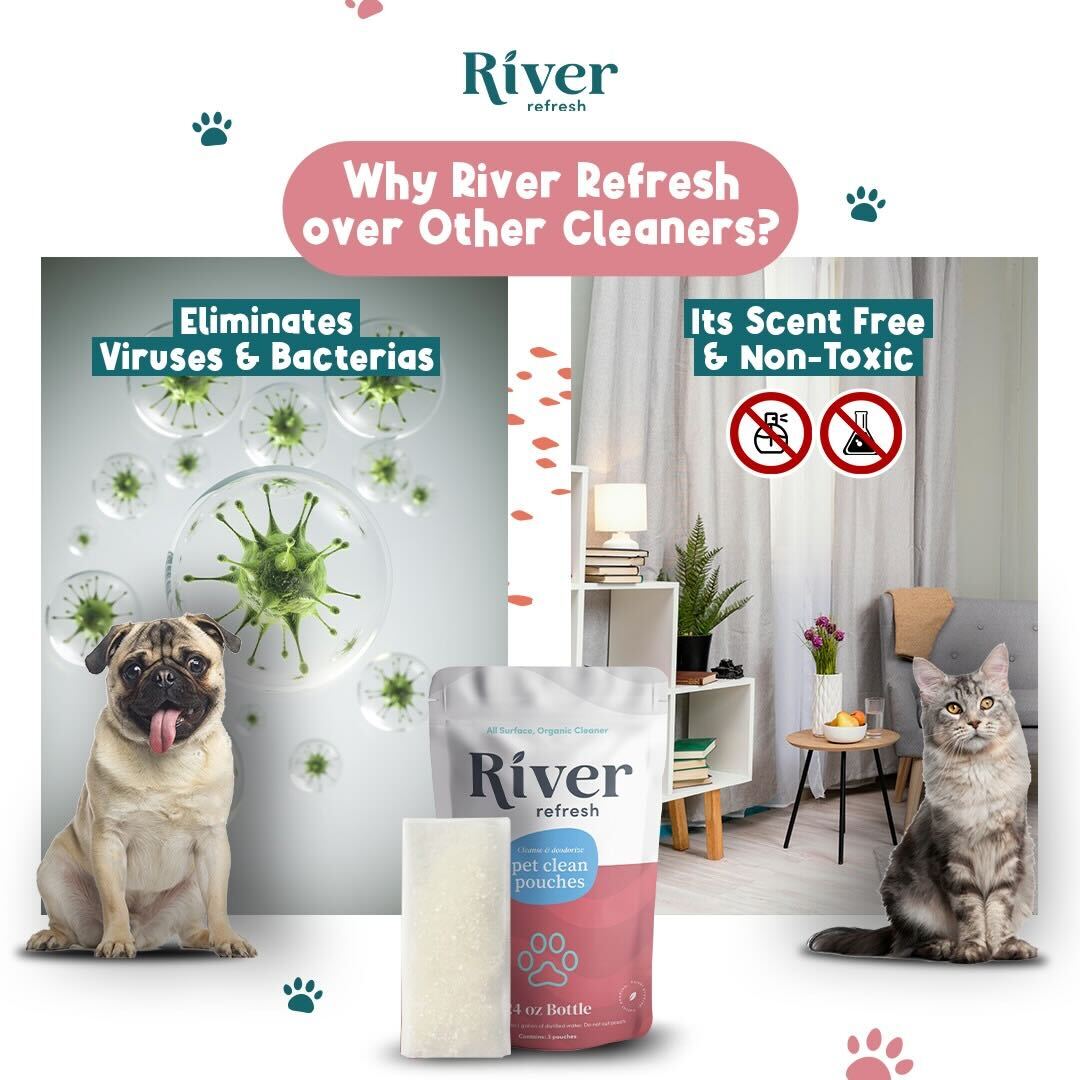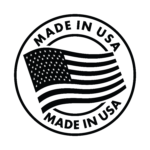 No Scissors Needed
Open the resealable packaging, but DO NOT cut into your River Refresh "River Rocks Pouch" earth-friendly pouch.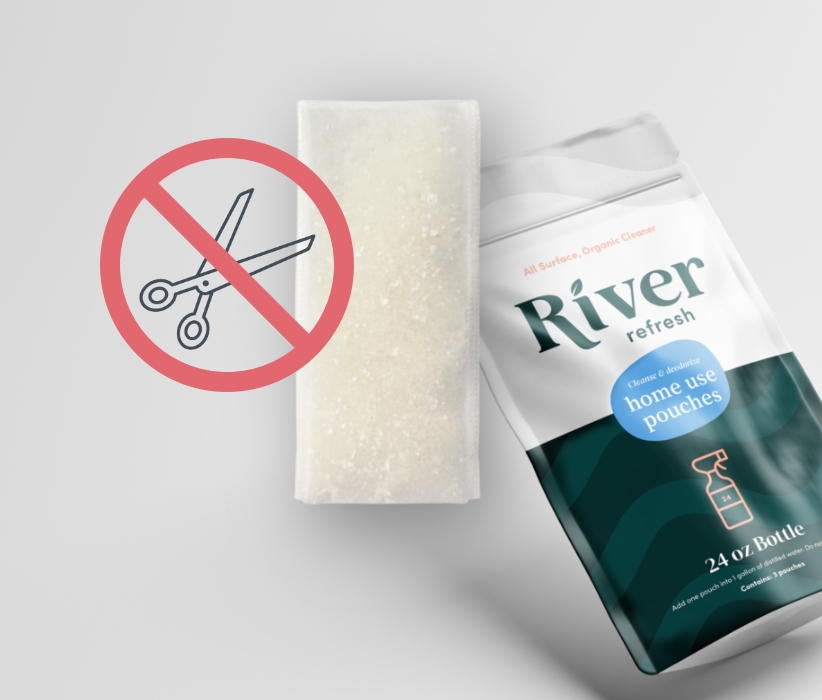 B.O.Y.B. (Bottle)
Place the uncut "River Rocks Pouch" in your own reusable spray bottle. We do this to reduce plastic waste.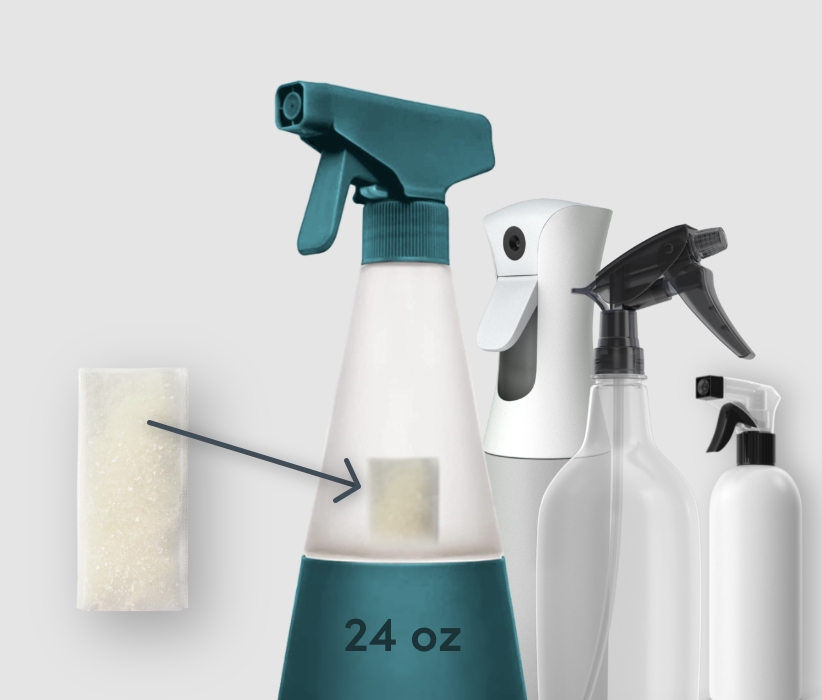 Clean with Confidence
Clean your space with toxin-free River Refresh. Your pets and the planet are safe from hazardous chemicals.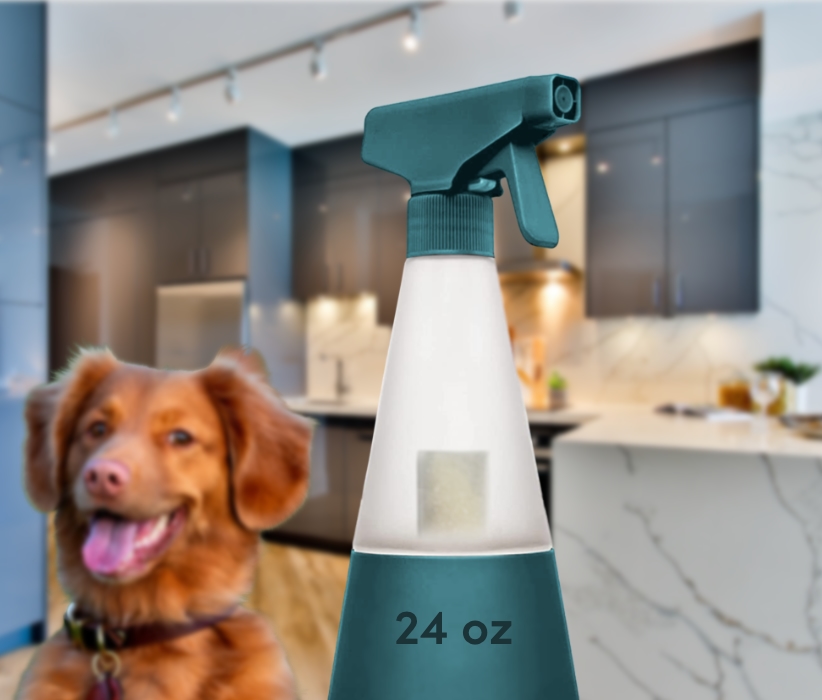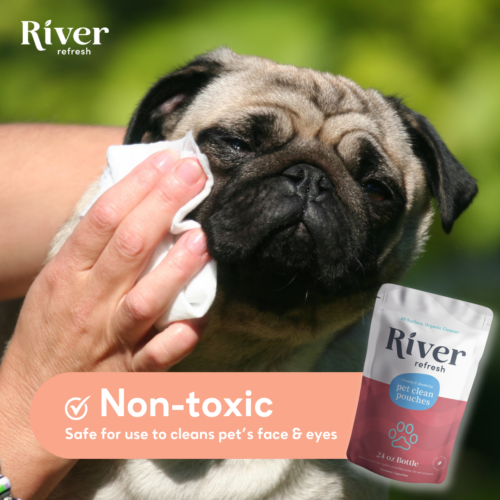 Prioritizing Pet Safety with Every Spray
At River Refresh, we understand the boundless curiosity and playful nature of our furry companions. That's why our pet product is meticulously formulated to be non-toxic, ensuring it's gentle enough to use directly on your pet's delicate face or to cleanse their adventurous paws. Whether they're returning from a muddy romp or simply need a quick refresh, you can trust that our solution is safe, even if those paws make their way to a wagging tongue afterward. We're passionate about providing cleaning solutions that prioritize your pet's well-being, allowing them to explore, play, and snuggle without any worries. With River Refresh, you're not just choosing cleanliness; you're choosing uncompromised safety for your beloved pets.
Pee Problems? Not Anymore!
We've all been there – that unmistakable scent marking the aftermath of a little pet accident. But with River Refresh, you can confidently tackle the issue right at its source. Our specially formulated solution dives deep, targeting and eliminating the pesky bacteria responsible for those stubborn urine odors. By effectively neutralizing the scent, not only do you get a fresher, cleaner space, but it also acts as a deterrent, discouraging your pet from marking that spot again in the future. Choose River Refresh, and say goodbye to lingering smells and recurrent pee spots, ensuring a harmonious living environment for you and your furry friend.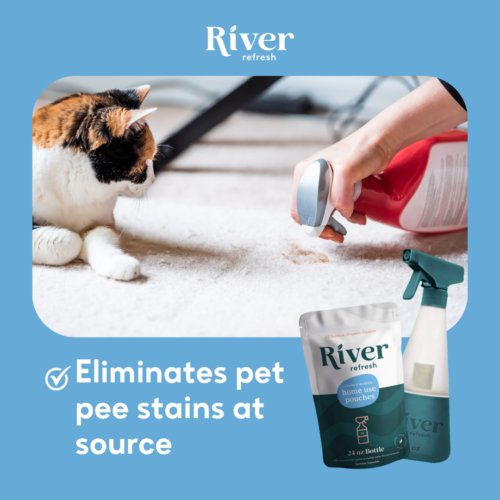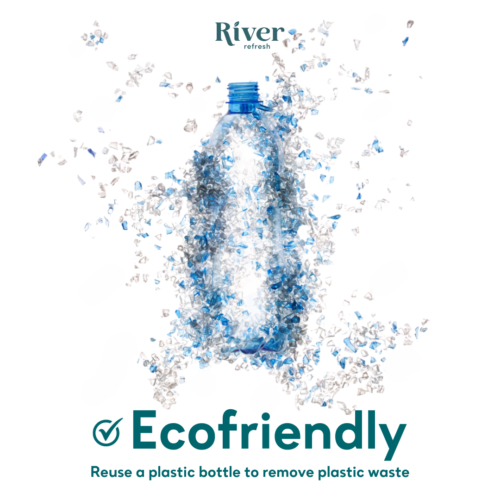 Every Bottle Counts: Committing to a Greener Tomorrow
In our world of disposables, the sheer volume of single-use plastic bottles ending up in landfills is staggering, with lasting impacts on our environment. By choosing to reuse bottles, we make a powerful statement in favor of sustainability. Every bottle refilled and reused means one less in the dump, reducing carbon emissions, conserving resources, and curbing the pollution threatening our ecosystems. By embracing the reuse culture with River Refresh, you're not just getting an exceptional cleaning solution; you're actively championing a cleaner, greener, and brighter future for our planet. Make the shift, reduce waste, and be part of the solution.
Versatility Meets Pet-Friendly Freshness
Pets, with all their joy and companionship, can sometimes bring along a trail of odors that settle into every corner of our homes. With River Refresh, you're not just limited to cleaning hard surfaces; its advanced formula effectively deodorizes all types of materials, from your plush couches to cozy carpets. Whether it's that favorite armchair your cat lounges on or the rug your dog loves to roll over, River Refresh dives deep to neutralize odors, ensuring every spot in your home remains as fresh as the day you bought it. No more masking or temporary fixes; embrace a solution that understands the diverse needs of pet owners and delivers pristine results, every time.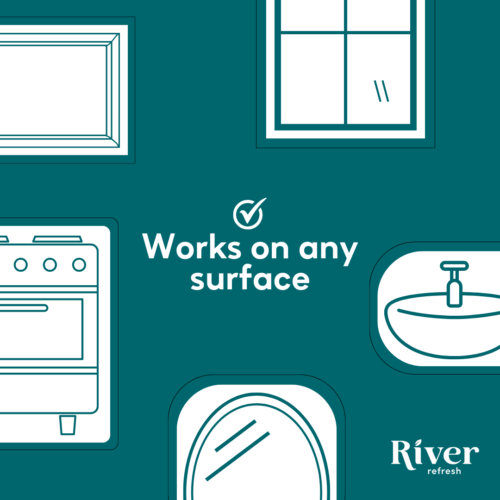 River Refresh
Average rating:
0 reviews